Events:GPN16
Jump to navigation
Jump to search
Figures
Equipment used:
1x 30-connection exchange
1x 10-connection exchange
1x Telephone (4-connections) connection box
about 15 field telephones deployed
about 400 meter field wire (t.b.c.)
Special Services
Of course there is a field telephone system as such! But we had two new additions:
The event
After the Easterhegg2016 the GPN16 was the second event where we participated as "Chaosvermittlung". The GPN16 was an important mile stone in the development of the Chaosvermittlung. Several new things were developed in preparation for the event or came up there.
For being able to deploy field telephones in the lecture halls, methods of silencing the phones and the optical bell were created.
The test of a method to feed external audio into the system with this hardware lead to the line hold music feature, which was very well received.
The connection to the outer world via the analogue phone lines provided by the POC worked out extremely well. Being able to just pick up the next field phone and getting connected to an arbitrary phone number in the DECT system, is kind of a killer application. We have to promote that feature more prominently in the future.
Putting "public" field phones in certain places, like the lounge or the smoker corners, resulted in a significant amount of system use for entertainment purposes (fostered by the consume of alcoholic beverages).
The initial plan to have some kind of tent telephone box outside, morphed into something very different and became a wicked looking umbrella. It still hosted the Russian field phone outside the main door and did its duty in keeping the phone from drowning in the rain.
The event was also very important in regards of "spreading the virus". We had a nice amount of exposure and new people got interested in the technology. The guys from Nuremberg got very hard hit and have since then become a major part of project Chaosvermittlung, contributing with equipment and manpower.
At that very event we were also donated a DSLAM, which might result in our service portfolio being extended by some DSL over field wire capabilities.
We also provided part of the hardware (the wire) for other people who did very interesting experiments. They ran TCP/IP over CAN over field wire!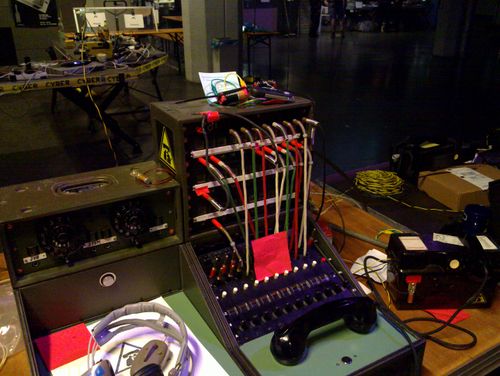 There are more images of equipment used at GPN16 in the galleries here.