Speaking Clock
Jump to navigation
Jump to search
NTP server not running and you need the time right now? With the time service or speaking clock service you can call us and we will provide the exact time for your.
Origin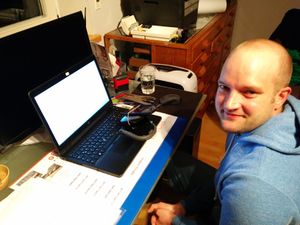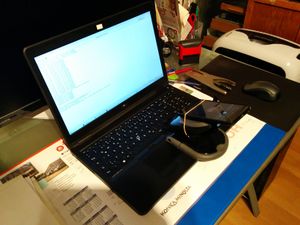 Miriw had a gread idea and started to collect voice recordings from different people.
The goal is to enable the talking clock to speak multiple languages. This includes German or English, where people explicitly not try to hide the impact of their local accent. If you want to help in extending the portfolio, please provide us with a recording of the text below. Speakers of other languages please use the English version as inspiration. I will be able to handle French or Italian without additional support. In other cases it might be helpful to put some advise in between to help with slicing up. At some point in time I might add the details in case you want to provide a readily sliced set. But we are deliberately not asking for that. Recording the text is comparatively low effort. Editing is a bigger task. For my fist German text is was less than 4 minutes of recording and 4 hours of editing...
German:
# Der nachfolgende Textvorschlag enthält mit etwas Redundanz alles was wir brauchen um daraus Ansagen für nahezu beliebige Zeiten zusammen zu stückeln. Die Teile in Klammern können nach Belieben weg gelassen werden.
# Der genaue Wortlaut kann nach eigenem Ermessen gerne angepasst werden. Z.B. in das früher in Österreich benutzte Format "Es wird mit dem Summerton, 23 Uhr, 59 Minuten und 50 Sekunden".
#Es ist beim Extrahieren sehr hilfreich, wenn Ihr versucht die Zahl und das "Minuten" bzw. "Sekunden" nicht zu sehr zu verschleifen. 
# Der Grund, warum auch bei den letzten Zahlen immer noch ein "Minuten" oder Sekunden dabei steht ist, dass ich glaube der Sprechfluss ist so schöner als wenn man nur die blanken Zahlen aufbetet. Aber auch das liegt in Eurer Hand.
# Das "Bonusmaterial" dient der Vorbereitung für eine zukünftige Erweiterung des Ansageformats. 

Beim nächsten Ton ist es 0 Uhr, 0 Minuten und 0 Sekunden.
Beim nächsten Ton ist es 1 Uhr, 1 Minute und 10 Sekunden.
(Beim nächsten Ton ist es) 2 Uhr, 2 Minuten und 20 Sekunden.
() 3 Uhr, 3 Minuten und 30 Sekunden.
() 4 Uhr, 4 Minuten und 40 Sekunden.
() 5 Uhr, 5 Minuten und 50 Sekunden.
() 6 Uhr, 6 Minuten und 25 Sekunden.    <-- !! neue Sekundenstufung
() 7 Uhr, 7 Minuten und 26 Sekunden.
() 8 Uhr, 8 Minuten und 27 Sekunden.
() 9 Uhr, 9 Minuten und 28 Sekunden.
() 10 Uhr, 10 Minuten und 29 Sekunden.
() 11 Uhr, 11 Minuten und 31 Sekunden.
() 12 Uhr, 12 Minuten und 32 Sekunden.
() 13 Uhr, 13 Minuten und 33 Sekunden.
() 14 Uhr, 14 Minuten und 34 Sekunden.
() 15 Uhr, 15 Minuten und 35 Sekunden.
() 16 Uhr, 16 Minuten und 36 Sekunden.
() 17 Uhr, 17 Minuten und 37 Sekunden.
() 18 Uhr, 18 Minuten und 38 Sekunden.
() 19 Uhr, 19 Minuten und 39 Sekunden.
() 20 Uhr, 20 Minuten und 41 Sekunden.
() 21 Uhr, 21 Minuten und 42 Sekunden.
() 22 Uhr, 22 Minuten und 43 Sekunden.
() 23 Uhr, 23 Minuten und 44 Sekunden.
() 00 Uhr, 24 Minuten und 45 Sekunden.
(Beim nächsten Ton ist es 1 Uhr,) 46 Minuten und  47 Sekunden.
() 48 Minuten und  49 Sekunden.
() 50 Minuten und  51 Sekunden.
() 52 Minuten und  53 Sekunden.
() 54 Minuten und  55 Sekunden.
() 56 Minuten und  57 Sekunden.
() 58 Minuten und  59 Sekunden.

# Bonusmaterial

1 vor halb 12 mittags
3 nach viertel 3 Uhr morgens
2 vor viertel nach 6 Uhr abends
6 nach viertel vor 4 Uhr Nachmittags
2 vor deiviertel 7 abends
2 vor Mitternacht und 1 Sekunde

 

English:
# Please find below a proposal for a text to record. It will allow us, after slicing it up, to create almost arbitrary time announcements. 
# Text in parenthesis can be regatded as optional.
# Feel free to alter the wording to your liking. One contributor chose "At the tone it will be..." for example.
# "Bonus material" is in preparation for extending the announcement format in the future.

At the next tone it is 0 hours, 0 minutes and 0 seconds.
At the next tone it is 1 hour, 1 minute and 10 seconds.
(At the next tone it is) 2 hours, 2 minutes and 20 seconds.
() 3 hours, 3 minutes and 30 seconds.
() 4 hours, 4 minutes and 40 seconds.
() 5 hours, 5 minutes and 50 seconds.
() 6 hours, 6 minutes and 25 seconds.    <-- !! Change in seconds increment
() 7 hours, 7 minutes and 26 seconds.
() 8 hours, 8 minutes and 27 seconds.
() 9 hours, 9 minutes and 28 seconds.
() 10 hours, 10 minutes and 29 seconds.
() 11 hours, 11 minutes and 31 seconds.
() 12 hours, 12 minutes and 32 seconds.
() 13 hours, 13 minutes and 33 seconds.
() 14 hours, 14 minutes and 34 seconds.
() 15 hours, 15 minutes and 35 seconds.
() 16 hours, 16 minutes and 36 seconds.
() 17 hours, 17 minutes and 37 seconds.
() 18 hours, 18 minutes and 38 seconds.
() 19 hours, 19 minutes and 39 seconds.
() 20 hours, 20 minutes and 41 seconds.
() 21 hours, 21 minutes and 42 seconds.
() 22 hours, 22 minutes and 43 seconds.
() 23 hours, 23 minutes and 44 seconds.
() 00 hours, 24 minutes and 45 seconds.
(At the next tone it is 1 hours,) 46 minutes and  47 seconds.
() 48 minutes and  49 seconds.
() 50 minutes and  51 seconds.
() 52 minutes and  53 seconds.
() 54 minutes and  55 seconds.
() 56 minutes and  57 seconds.
() 58 minutes and  59 seconds.

# Bonus material

1 to half past 12 AM
3 past a quater past 3 AM
2 to a quarter past 6 PM
6 past a quarter to 4 PM
2 to three quarter of 7 PM
2 to midnight and 1 second